Tipp: DVD – The Power of Social Media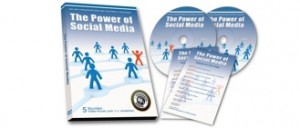 Haben Sie sich nicht auch schon öfters gedacht, Social Media, alles schön und gut, aber was bringt mir das wirklich?  Der Schlüssel, um im Internet an das große Geld zu kommen ist, sich ein riesengroßes Kontaktnetzwerk aufzubauen und es dann auch zu nützen. Social Media ist viel mehr als nur eine neue Mode, es ist mittlerweile ein gewaltiges Phänomen. Wenn Sie Neukunden gewinnen wollen und Ihre Bestandskunden sichern wollen, müssen Sie sich mit diesem Thema auseinandersetzen. Zielgruppen-Besitz ist das Kapital des 21. Jahrhunderts!
Noch nie war es so einfach, so schnell und so kostengünstig neue Zielgruppen zu gewinnen. Auch das Marketing verlagert sich immer mehr in diese Netzwerke. Sie müssen nur wissen wie!
DVD – The Power of Social Media ist das wohl umfangreichste Werk über Social Media im deutschsprachigen Raum. Die gleichen Informationen würden Sie bei einer Marketing-Agentur EUR 10.000,-  und mehr kosten!
XING – Akquisition 2.0 + Recruiting 2.0 (Akquisition von Entscheidern)
Twitter – Maschine (Vollautomatisch Twittern)
Virale Vernetzung (Vernetzung der Plattformen)
Web-Videos – Der nächste grosse Trend im Internet
Power-Marketing im Internet (Lernen von führenden Internet-Marketern)
Facebook – Power (Unternehmensseiten + Aufbau)
Blog – Kommunikation (kostenlose Leads generieren)
Tipps und Tricks vom Profi (Gratis-Webseiten und innovative Tools)
Klicken Sie bitte hier zur DVD von Marcel Schlee
50 EUR Preisvorteil für FinanzPraxis Leser!
Geben Sie dazu einfach bei der Bestellseite unten als Gutscheincode: finanzpraxis ein und Sie erhalten Ihren
Preisvorteil von EUR 50,- .