Man of the Month: Visionär und Immobilienfuchs Jörg Winterlich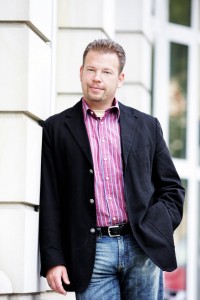 Jörg Winterlich ist der Prototyp des erfolgreichen Dresdners. Seit bereits mehr als 18 Jahren arbeitet er erfolgreich als Unternehmer. So ist er zum Beispiel einer der Gründer des über die Grenzen des Landes hinaus bekannten Softwareunternehmens "FlowFact". 2007 zog er sich hier aus dem Vorstand zurück und verkaufte seine Anteile um sich weiter zu entwickeln wie auch ausschließlich um das Immobilien Investment zu kümmern. Sein Ziel ist es, zu ergründen was den Immobilieninvestor nachhaltig erfolgreich macht.
Hierzu sammelt er seine Erfahrung aus der Praxis wie auch aus Trainings. So bereiste Jörg Winterlich viele Teile der Welt und beschäftigte sich dort intensiv mit den verschiedenen Handlungsweisen, Glaubensgrundsätzen und Kulturen. Dabei  hatte Jörg Winterlich immer den Blick auf das lokale Immobilien Investment gerichtet. Diese Studien führten ihn auch zu den"Immobilien und Finanzgurus" in den USA und in Kanada. Dort wird ja eine besondere Finanz- und Investmentkultur gepflegt, wie wir wissen.
All dies gesammelte Wissen und seine Beobachtungen ordnete Jörg Winterlich in verschiedenen Publikationen wie auch in äußerst beliebten Seminaren. Fast jeder in der Immobilienwelt kennt sein "Wissenspaket". Hier wurden umfassende Informationen so gebündelt, dass Laie wie Fachmann schnell Zugriff auf vielfältige Fachartikel und Publikationen  bekommt.
Seine Publikationen, Seminare und Webinare kommen unterhaltend und aufschlussreich daher. Sie regen zum Nachdenken über die eigenen Verhaltensmuster an und sorgen dafür dass Werkzeuge und Techniken sinnvoll und gewinnorientiert eingesetzt werden können. "Die beste Arbeit lohnt nicht, wenn die falschen oder keine Entscheidungen getroffen werden",  so Jörg Winterlich, den wir in seinem Büro in Dresden getroffen haben.
FP: Guten Tag Herr Winterlich. Viele Ihrer Trainings beziehen sich ja auf das Immobilien Investment. Was macht Ihr Training zu einem "besonderen Training"?
JW: Ich beendetet 2007 meine Tätigkeit bei FlowFact um mich ganz dem eigenen Immobilien Investment zu widmen. Dabei wollte ich nicht, wie so viele Investoren am Markt, zum Glücksspieler werden sondern die Aufgabe strukturiert und fundiert angehen. Mir war zwar die deutsche Immobilienszene durchaus bekannt, aber es wurde kein einziges gezieltes Training für Investoren oder Profianleger  angeboten. Nach intensiver Suche im deutschsprachigen Raum wie auch in Europa wurde ich schließlich auf dem Nordamerikanischen Kontinent fündig und nahm dort alle Informationen mit, die mir relevant erschienen und Immobilen Investment strukturiert und im Detail darzustellen.
Nach meiner Rückkehr wuchs der Wunsch, diese Erfahrungen und dieses Wissen zu teilen.
FP: Was macht den Investor zum erfolgreichen Investor und unterscheidet ihn vom Glücksspieler?
JW: Fast alle Kapitalanleger bekommen etwas verkauft und treffen die Kaufentscheidung nicht wirklich selber. Auch ist die Immobilie nicht das Anlageziel sondern die Randeffekte wie Steuerersparnis, Inflationsangst, Eurokrise, Anlagendiversifizierung oder ein gewisser Herdentrieb. Die vielleicht erhofften Gewinne werden auf diesem Wege nur bei Glück eintreten.  Der erfolgreiche Investor ist mit den Eigenheiten der Immobilien und der Märkte im Detail vertraut. Ihm sind verschiedene Geschäftsmodelle, Strategien, Finanzierungsmöglichkeiten, Wirtschaftlichkeitsberechnungen sowie Steuerstrategien und die Risikoanalyse geläufig. Die meisten klassischen Anleger sind im Gegensatz zum Profianleger / Investor eher gefühlsgetrieben und sie verstehen nicht die Eigenheiten des "Geschäftsbetriebes Immobilie".  An dieser Stelle möchte ich auch die Fachartikelserie "Investment vs. Kapitalanlage" empfehlen, welche genau diese Facetten hinreichend beleuchtet und im Wissenspaket enthalten sind.
FP: Sicher benötigt auch der beste Investor einen Makler, aber wie stehen sie zu diesem Berufsstand, der ja oftmals Ziele verfolgt, welche den Ihren widersprechen?
JW: Gute Dienstleister und Makler, welche mit den Objekten der Begierde handeln, die richtigen Inhalte liefern und Kontakte vermitteln sind hier unentbehrlich. Aber sie müssen vor allem die Denk- und Arbeitsweise des Profianlegers verstehen.  Je besser sich dieser beim Geschäft bestens beraten fühlt und das Objekt den gewünschten Kriterien und Optimierungsmöglichkeiten entspricht, wird er sicher gern  die Provisionen zahlen. Meine Provisionszahlung  geht am Tage des Notartermins per Blitzüberweisung auf dem Konto das Maklers ein. Für den Makler ist die Kenntnis über die Arbeitsweisen des Investors und eigene Investment – Erfahrung ein hohes Gut. Leider verfügt nur ein geringer Teile der  Makler oder Verwalter über entsprechende eigene Investmenterfahrung.
FP: Herr Winterlich geben Sie uns einen kleinen Ausblick, werden Sie sich weiterhin mit Immobilien beschäftigen, oder haben wir noch ganz andere Innovationen von Ihnen zu erwarten?
JW: Immobilien sind bleiben meine Leidenschaft, aber natürlich blicke ich auch über den Tellerrand hinaus. Deshalb gibt es zusätzlich das "Money professional Training". Jedoch werden auch die Immobilien –  Themen immer weiter vertieft und ausgebaut. Ganz neu in diesem Jahr bieten wir erstmalig ein 3 Tage intensiv Training zum Thema Zwangsversteigerung an. Dabei werden alle Vorgehensweisen der verschieden Akteure, vom NPL-Servicer bis zum Zwangsverwalter umfassend beleuchtet.
Mir macht es spaß, tief in neue Materie einzudringen diese zu strukturieren und zu hinterfragen und neue anwendbare Erkenntnisse zu gewinnen und diese zu vermittlen. Mein Wahlspruch lautet an dieser Stelle: "Bildung ist teuer, aber versuchen sie es mal mit dem Gegenteil."
FP: vielen Dank für das Gespräch Herr Winterlich
JW: bitte erlauben Sie mir, an dieser Stelle auf meine Homepage
http://www.immobilien-investment-training.de zu verweisen.
Dort werden die von Ihnen hinterfragten Themen erweitert dargestellt.